Don't Rain on this parade and be sure to buy tickets to the revival of Funny Girl, which is now on tour. This musical tells the story of early 20th century star, Fanny Brice, and the trials and tribulations of show business. The reworking of the book focuses on Fanny's relationship with her gambling-addict husband and her toeing-the-line mother. Both relationships played a role in Fanny's happiness and her rise to stardom after WWII. 
The original production premiered on Broadway starring Barbra Streisand in 1964 and earned eight Tony nominations. Its stage success was translated to the screen four years later, earning eight academy award nominations. In 1975, the film was followed up with a sequel titled "Funny Lady." But now it returns to the stage bigger and funnier than ever! 
The revival has done a successful job in maintaining the feeling of the original but also has added new depths to some of the characters, especially Nicky who has a powerful ballad, "Temporary Arrangement," about his view on the relationship and his gambling.  
The other major changes include the addition of two songs from the movie, "You're a Funny Girl," and "I'd Rather Be Blue Over You," and the restoration of the song "Temporary Arrangement," which was dropped from the original production. 
The whole show was very well done and really transported audience members into the early 20s. As audience members found their seats, they were treated to a delightful overture played by the orchestra under conductor Elaine Davidson.  
The choreography, by Ellenore Scott and Ayodele Casel, was insanely magical and showcased the talents of the ensemble, especially during "Rat-Tat-Tat-Tat." The tap number is one of the best elements of the show. The acoustics in the Hippodrome paired with the impeccable dancing of the ensemble highlight the ease with which the cast performs the complex dances.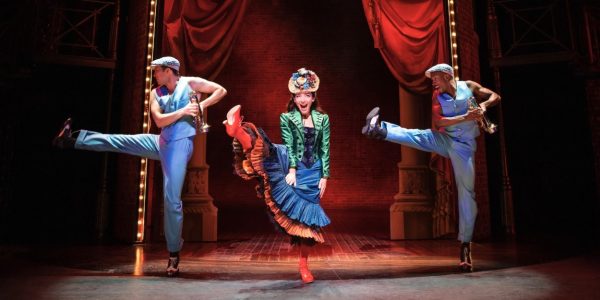 The scenic design, courtesy of David Zinn, was creative and matched the tone of the vaudeville era masterfully. Speaking of vaudeville, the costumes were stunning! Susan Hilferty did an amazing job. My favorite costumes were worn by the Ziegfeld Follies – each time they appeared they were in astonishing and colorful outfits. 
But "the greatest star" was easily Fanny Brice aka Katerina McCrimmon. She fills the Streisand-shaped shoes just perfectly and portrays Brice with humorous gusto. She has a powerful voice, expressive face, and her comedic timing is outstanding. She was an energetic dynamo of the stage as she sang and danced in more than half of the musical numbers.  
McCrimmon is a showstopper and rightfully earned a standing ovation. But as the curtains come back down audience members are brought back to reality with a powerful message. They leave joyful and understanding of Brice's approach to life: humor in catastrophe and tenacity in failure.