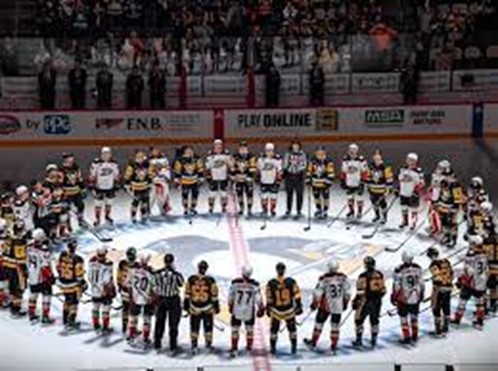 On Saturday, October 28th, 29-year-old ice hockey player for the Nottingham Panthers, Adam Johnson, was killed in a freak accident on the ice during a game against the Sheffield Steelers in front of 8,000 horrified fans, including his family and friends.  
During the second half of the game, Matt Petgrave kicked his leg back in what was described by fans as "suspicious" and by Johnson's teammates as a "kung fu kick," and the blade came back, cutting Johnson's neck. Johnson was helped towards the side of the rink following this collision, but collapsed a few paces later. Fans were asked to leave the stadium right away following the incident due to this being a "major medical emergency." Johnson received medical treatment on the ice and was taken to Sheffield's Northern General Hospital, where he later died.  
Petgrave, the player whose skate slashed Johnson's throat, has been described by Fox presenters and people online as a "dirty player," and was the most penalized player of the league last season. Due to his nature, many players and fans believe that the kick was intentional. However, Petgrave is said to be "absolutely distraught" and "horrified" by what happened, but the investigation into the incident remains ongoing.  
Since his death, Johnson's family has come out and said that Petgrave's actions were "reckless" and "totally unnecessary." Johnson's aunt, Kari Johnson, says, "You don't take your leg and kick somebody and cut their throat. I'm sorry." She continues, stating, "We were watching the game in real time, and we did witness what happened. Horrific is the word to describe." She later goes on to say, "My nephew was 6-feet tall, and whether you lost your balance or not, to have that leg come up and do a kicking motion like he did, that is just unacceptable." She also reveals that she watched the video "hundreds of times," and Petgrave's actions were "unnecessary" because nobody touched him.  
She shares that she and the rest of the family are extremely devastated, and despite the fact that it may not have been entirely intentional, and Petgrave is most likely going through a lot following this event, he still took the life of their beloved family member. "I'm sure Mr. Petgrave probably didn't even think about what the consequences could be of that happening, but there comes a time when you have to realize, that's not hockey," she says. "And I'm sure he's going through a lot too, but he took our boy. There are a few of us in the family that think it was a totally unnecessary, very, very bad action to take."  
After this accident, hockey players are being strongly encouraged to wear neck guards to prevent another event like this in the future. The Pittsburgh Penguins have already made the decision for neck guards to be mandatory for players in practices and games following the tragic death of Johnson.  
Johnson had just been engaged in the summer to his longtime girlfriend Ryan Wolfe, whom he was living with in the U.K. Wolfe posted a tribute to him on social media, stating, "To my sweet, sweet angel, I'll miss you forever and I love you always."  
Johnson's career was taking off, as he had played with three AHL teams in his career prior to signing with the Panthers. He played for the Malmo Redhawks in Sweden, Ontario Reign in California, and Augsburger Panthers in Germany. He played with the Penguins the longest, for 13 games over the course of two seasons in 2018-2019 and 2020-2021. The Penguins say that he will "always be a Penguin."  
Family, friends, fans, coaches, and teammates continue to mourn this loss, as Adam Johnson was described as "an outstanding player, a great teammate, and an incredible person." The Pittsburgh Penguins also came out with a statement, saying that, "Adam will always be a part of the Penguins family. It was our honor to watch him fulfill his dream of playing in the National Hockey League."